Four day Wine Tour in the Loire Valley France with four nights accomodation
Enjoy a Four day Wine Tour and stay for 4 nights in a one bedroom apartment or a double or twin bedroom with en-suite facilities at Manoir de Gourin . A gourmet wine-tasting dinner and three full days of vineyard visits & sightseeing included.
Contact Karin for a quotation
Arrive on Day 1 in time for afternoon tea at Manoir de Gourin. Then time for relaxation or a dip in the pool before a delicious wine-tasting dinner.
AT A GLANCE
Our Four day WineTour 'Uncork the Grape' Experience includes: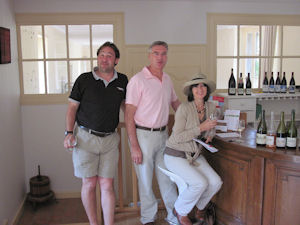 Meet at the Manor House or collection to and from Angers or Saumur

4 nights bed and breakfast

1 wine tasting dinner at Manoir

Transport in comfortable air conditioned vehicle

All entry fees to cellars where appropriate

Itineraries notes and details of the domains and vineyards

Tasting notebook and pen

Opportunity to purchase wines at cellar door prices

3 lunches at le Manoir, local auberge or at a vineyard

The services of Simon as your guide

Transport to and from restaurants for meals where appropriate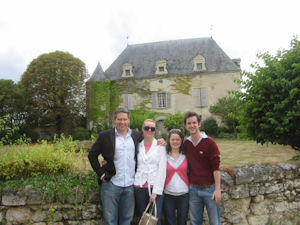 Day 1 Four Day Wine tour
pm: Arrive at le Manoir or collection from Angers or Saumur

Afternoon tea on the sheltered terrace of Manoir de Gourin

Wine Tasting Dinner in the elegant dining room or at a nearby restaurant
Day 2
The House Breakfast

am Visit to Anjou Vineyard for tour & tasting

Lunch at Manoir or hamper lunch at a vineyard

pm Visit Saumur vineyard for tasting and a cellar visit

Evening transport to and from restaurant
Day 3
The House Breakfast

am Visit a Saumur Champigny Vineyard for tour & tasting

Picnic at the vineyard

pm Visit a Saumur Sparkling Wine House for tour &tasting

option to remain in Saumur for Dinner or return to Manoir

Evening transport to and from restaurant
Day 4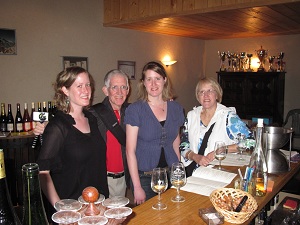 The House Breakfast

am

Visit to large wine cooperative for tour of caves & tasting

Unaccompanied lunch at Bistro in Montreuil Bellay

pm Unaccompanied Visit to Montreuil Bellay Chateau and a tasting of the chateau wines

Informal dinner with Simon and Karin at Manoir de Gourin
Day 5
Leisurely House Breakfast

Depart by 11 am Or Transport to Angers or Saumur
N/B The cost of dinners on Das 2 and 3 and chateau entrance fees are not included
Day 1
pm: Arrive at le Manoir or col
hggkfyfjfgAfternoon tea on the sheltered ter
vgfdfggrgrggWine Tasting Dinne