2017 was our tenth year of wine tours and we welcomed our first guests from Australia Donna and Steven for a tour of the Loire wine region in May and finished with our American guests Alex, Mindy, Christina and 'George' in September. Our tours continue to be popular so pop us an email to enquire about our 2018 programme with Simon.
Here are some of the reviews from guests who have enjoyed our tours over the last ten years from 2008.
Read our guest reviews on tripadvisor
Wine Tour and Dinner Reviews from Guests for 2009, 2010, 2011, 2012, 2013, 2014, 2015, 2016 and 2017.
A selection of our 2017 reviews:
What a lovely experience. Love the winery and such a wonderful property. Looking forward to coming back. Thank you. Christine, Alex, Mindy and 'George'. USA. September 2017.
Thoroughly enjoyed the afternoon wine tour. Thank you. Rick and Judy, Hampshire, UK. September 2017.
Wine tour and vist was superb and well worth it…Simon and Karin great hosts…lovely tine but over too soon! Rob and Lin, Dorset, UK. September 2017
Fabulous tour and evening meal in the restaurant with superb company. Kate and Andy, UK. September 2017
Our visit with Simon on the wine tour – excellent. Alister and Heather, Cheshire, UK September 2017
The wine tour with Simon was very educational and purchases were made!! Claire and Dave, Coventry UK July 2017
Simon's wine talk and visit to the vineyard with other guests was great fun. Looking forward to tonight's group dinner. John and Christine, Hampshire, UK July 2017
Thoroughly enjoyed the wine tour and evening meal with fellow guests. Love to come back one day. Sheena and John, Ayrshire, Scotland July 2017
We particularly enjoyed our wine tour experience with Simon… Ron and Sue June 2017
We have enjoyed an informative and enjoyable wine trip with Simon. Bill and Jane June 2017. Rugby, Warwisckshire, UK
The wine tasting is a MUST! Not only because of the knowledge and passion that both Simon and Hubert share, but we learnt so much and had a great laugh as well. Ron and Sue Harwich, UK
Thoroughly enjoyed Simon's informative wine tour and trip to taste Loire valley wine. Barbara and Chris UK
If you want to learn about Loire wines, Simon is your man. He's also a lot of fun to be around.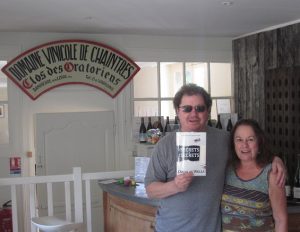 He refrains from telling you how the wines should taste, and instead encourages you to experience
them. Douglas and Cara, USA
A selection of our 2016 reviews
"We've had a fantastic time exploring four different vineyards. We now know the difference between AOC, Village and Cru (I think). The course has really made us think about the wine we drink, especially as Simon has opened our eyes and demystified the mysterious world of Frnech wines. We would strongly recommend this course to keen wine drinkers! And the food was delicious too! Many thanks Simon and Karin for a very enjoyable (wine tasting) dinner (sorry we kept you up so late!). Sarah, Laura and Ian, UK
"…. the utterly wonderful wine tour with lunch – don't miss it" Alison and Dave, UK
"Highlight of our vist was the wine tour – Simon was very knowledgeable… Naturally we are taking a few cases home with us" Alistair and Mary, UK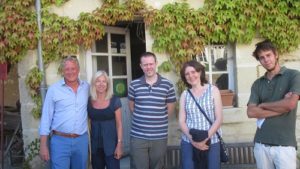 "we have a fantastic week…highlights Simon's amazing tour of an organic vienyard" Lynette and Dave, Berkshite
"We have really enjoyed the wine tour and the food. Simon is so knowledgeable about the wine and the place. We have learned so much. We need to practice what he preached"! J & M, UK
"The tour was much more than we expected. We learned so much about the area and its wines and the way wine is made and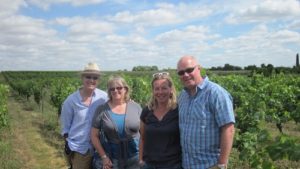 grapes grown. Simon was an exceptional tour guide… We would recommend this to anyone and we loved our experience". Nick and Sharon, Reno, Nevada, USA
"Simon's wine tours are educational, enjoyable and thirstquenching"! Sue and Simon Wiltshire, UK
"We really recommend the wine tour which was so informative, memorable and such a lovely day, meeting very generous people at the vineyards". Jeff and Megan, UK
"We had a wonderful day with Simon at Puy Notre Dame. Knowledgeable and professional service, yet down to earth and friendly manner with a great sense of humour, rapport, and relationship ……… We learnt so much but it was the best afternoon in a classroom I can remember! We left envious of the incredible hard working yet pure existence – the glow from the delicious wine selection will remain for some time" Sarah and Iain, Glasgow, Scotland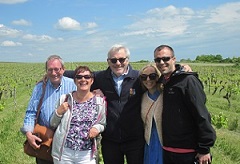 "We had an amazing time touring and experiencing the vineyards and wines of Champigny and Saumur, we learned so much and had a great time making friends with Simon, Gordon, Karin, Richard, Pierre, and Brigitte. We can't wait to employ all our great new knowledge and French wine et Les terroires. Thank you so much for everything" Joe and Jessie, Boston, USA
"Simon was very knowledgeable of the wines and vineyards. We had a wonderful time and if we are ever back in the Loire valley we will contact Simon again. The lunch with Pierre and Brigitte was delicious and their wines outstanding. Thank you." Al and Teri, California, USA
"What a wonderful tour of the lovely Loire valley with Simon …. such an intimate wine experience at two family run vineyards and an exquiste lunch with Pierre and Brigitte. We highly recommend this tour from Paris" Brandon and Laura, USA
A selection of our wine tour revews for 2015.
"No insipid wines will be drunk on this tour! Start out the roots – the soil, the climate, talk to the vigneron – and go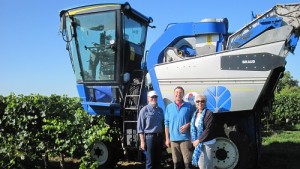 on to the press, barrel, bottle – We have the true sense of the wine! Simon you have made these 2 days the very best ones of our holiday! We must return Sept 2016" Teresa and Fred Colorada USA September 2015
"Wonderful day and fabulous food! We learned a tremendous amount on local wine. Pierre and Brigitte were lovely and we will have forever memories and fondness for Loire wines." Patrick and Barbara USA August 2015
"Fabulous food and wine. What a grea day! Thank you!" Rachel and Frazer UK July 2015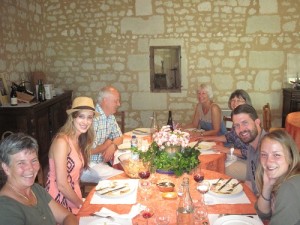 "Thank you for a lovely wine tasting and meal very enjoyable". Julie and Kieron UK July 2015
"A lovely eating drinking experience Merci Beaucoup". Gill and David UK July 2015
"Thank you for a fabulous lunch and convinial company. A lovely experience. Very enjoyable". Bren and Barry Halesowen West Midlands UK June 2015
" Thank you for a fantastic lunch and sharing your love of your wines. We have learnt so much and will remember you when we crack open your lovely wine". Nick and Sue Ringmer Sussex UK June 2015
"Thank you to our hosts for a wonderful and informative day. The wine and food were excellent. We would thoroughly recommend this day out. With our thanks again." Mike and Lucie St Albans UK June 2015.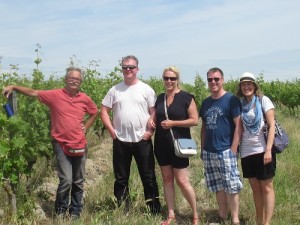 "Thank you. Thank you Karin and Simon. We returned with friends and have enjoyed a truely wonderful Loire Wine experience. Both of you have amazing attention to detail, the accommodation, the food and the wine tours have been of an extremely high standard. We wish you continued success and look forward to returning with further friends and family." Philip and Sarah, Wokingham UK May 2015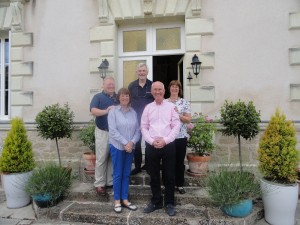 "What wonderful hosts Simon and Karin have been. It has been a fantastic couple of days – eating , drinking and great company. It is lovely to learn so much about the area and vineyards and what characters we have met in the winegrowers. Karin we appreciate what you have done with the beautiful accommodation and the fab food. Simon your knowledge and passion for your tours has made it a fun way to learn. Thank you. A bientot". Elaine and Paul Warwick UK May 2015
"Wine tour was absolutely wonderful experience. Appreciated Simon's preliminary talk ahead of the tour which set the scene for visit to vineyard. lunch and company made the day also! Thank you". Lynette and Steve, UK May 2015
Loire Wine Tour reviews 2014. These are just a selection of the reviews from our guests last year.
"Simply fell in love with the Saumur Puy Notre Dame. We helped pick the grapes" Colton and Dallas, Canada September 2014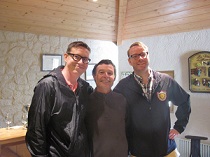 "Amazing!! Amazing!! Amazing!! Far exceeded our expectations!! Informative but more importantly fun!! Wine and food Michelin 5*!! The hosts Simon and Karin are most welcoming and gracious hosts." Jane, Vi, Connie, Lois. Toronto, Canada. September 2014
" Very good lunch and lovely atmosphere. Thank you for all the information. We will think of you as we drink the wine!" Christopher and Katie August 2104
"An excellent tour, extremely informative on Loire wines which we knew very little of. Thank you." Lester and Jenifer August 2014
"Thank you so much, we had an absolutely brilliant time. Everything was top notch. Thank you. AMAZING." Cliff and Sunita August 2014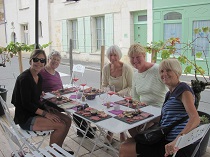 "Thank you so much for the beatiful lunch and wine. The wine is delicious, we really enjoyed it" Jimi, Urzula, Jen and Sam August 2014
"We have loved the wine, food and the tour. The whole day was amazing and we loved the whole experience. Many thanks" Ian and Kerrie August 2014
"Amazing! Loved the talk and information given by Simon. Walking through the vineyards gave insight into the hard labour of winemaking. Hats off to the owners. Great hospitality. Super afternoon thank you." John and Cobie UK August 2014
"We love wine! What a lovely place & a great tour from Simon. We love the reds ……Very informative but also fun" Katie and Dan August 2014
"Thank you so much for your wonderful hospitality and food" Chris and Dave, Norfolk, UK. July 2014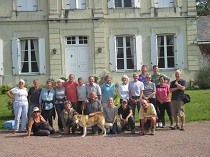 "What an experience. I shall never look at a bottle from the Loire quite the same any more. Simon's knowledge has given us all a far better understaning of wine and how it can be paired with different foods. That combined with the fantastic food by Karin and the opportunity to share it with strangers in such a fabulous house – well what more can I say? Thank you from us all. Sarah, Chris, Sally and Colin, Wiltshire, UK July 2014
"Hospitality as good as the wine does not get better than this." Colin and Sally, Norfolk, UK. July 2014.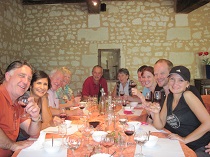 "They say a meal without wine is like a journey without sun. We have bathed, we have basked, and we have tanned for three glorious days. I'm also probably an unbearable wine know it all now. Thanks very much" Kevin, Cheshire, UK. July 2014
"Merci Beaucoup pour un apres midi tres informative! Les Vins de Brigitte et Pierre sont tous delicieux! Merci!" Lesley and Robert, Glasgow, UK June 2014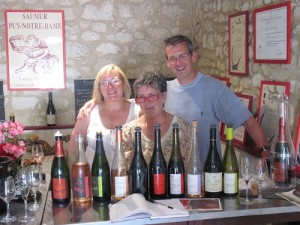 "Fantastic afternoon wine tour, full of fun, banter and so much knowledge! Simon was a great host, making sure that we all relaxed and enjoyed it. Would do it again! Thank you" Janet, Sunderland , UK June 2014
"An enjoyable and informative experience which I would recommend to all: it will exceed your expectations. Thanks Simon." David, UK. June 2014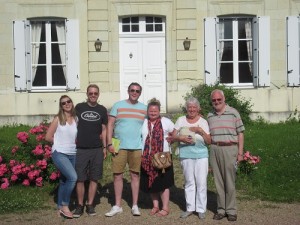 "The wine tour was really enjoyable made really valuable by Simon's introduction …. would highly recommend it to anyone who wants to appreciate their wine better". Mike and Suna, London, UK June 2014
Loire Wine Tour reviews for 2013
"Brilliantly organised and an opportunity to meet wonderful people such as Thierry, Huber, Pierre and Brigitte – all with great knowledge, to say nothing of the great knowledge of Simon – great with his anecdotes, his love of wines of the area. I have learnt so much – thanks Simon. Marge Scott and John Baird, Australia. September 2013
"Thanks for a very informative wine 'lesson' – A fantastic way to spend an afternoon – we will look at wine in a very different way from now on.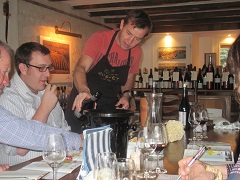 Thanks very much Simon – We recommend this afternoon to anyone." Jamie, UK September 2013
"A fantastic wine tour – you are a very knowledgeable host Simon and we loved the 'pop quiz' as you progressed to test our understanding! We will be thinking more about the wines we buy in UK." Amy, UK September 2013
"Karin and Simon have that certain 'x factor' – Many thanks to you both for the beautiful meal in your lovely home and also the very informative and most enjoyable wine tour." Alison and Ivan Northern Ireland. September 2013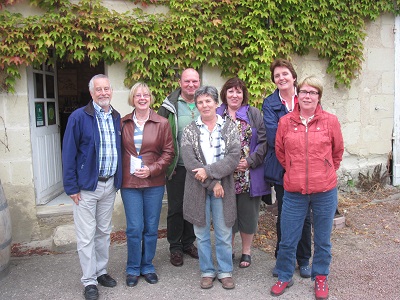 " Really enjoyed the wine tour, and the cycle ride round the vineyards. Thank you Simon and Karin for being perfect hosts…. the well equipped apartment, the fluffy towels, the daily bread delivery, the extensive wine knowledge, and the lovely meal with great company – all made it a wonderful week. A good trip – buy wine off Simon at the start of the week!" Chris and Phil, Preston, UK. August 2013
"We have enjoyed our stay in Anjou Cottage in this lovely part of France. Highlights include:- Simon's wine tasting adventure and dinner in Manoir with Karin and Simon and fellow guests. Catherine and Mike Cheshire, UK. August 2013
"The wine tour was great fun and very informative – we will both think twice before making a purchase in the supermarket! Fabulous lunch and then dinner at the Manoir – lovely food and great company – thank you!" Ian and Janet, Hampshire UK. August 2013
"We have spent two superb weeks in this lovely part of France. We thoroughly enjoyed the wine tour and the meals with Karin, Simon and the othr guests" Gillian and Andrew, Surry, UK. July 2013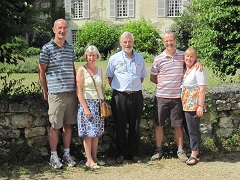 "We really enjoyed our stay with you particularly Simon's wine tour- how we will make the wine we bought last I don't know!!! Wish we had bought more". Lynn and Peter, Liverpool, UK July 2013.
Our stay in Anjou cottage has been lovely. Karin and Simon have made us most welcome, we have especially enjoyed Karin's superb cooking and Simon's knowledge of wine. Graham also did a wine tour with Simon, which he enjoyed, as well as learning about the intricasies of wine making". Sue and Graham, Germany. June 2013.
"Had a great evening at one of Simon and Karin's wine tastings … Karin is a fabulous cook" Gaynor and Jeff, Tunbridge Wells, UK June 2013
"We have had a wonderful holiday facilitated by Karin and Simon who were the perfect hosts. We particularly recommend Simon's wine tours – we learnt about Loire wines. Pierre and Brigitte were fantastic. …forgot to mention dinner nights. Not to be missed. Karin is a great cook" Mark and Carol, Northwich, UK. June/July 2013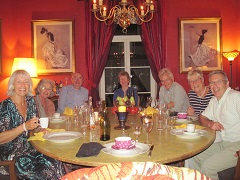 "Thanks for last week, we had a great time.The meal and the chance to meet the other guests was excellent and as long as my memory lasts I can go home tell my friends all about Loire wines! " Roger and Mary, Cheshire, UK. June 2013
"Of the many holidays we have enjoyed in France this one has been outstanding. We enjoyed an informal dinner and a wine tastng dinner with our hosts Simon and Karin. The food and wine were delicious and the company delightful. We would thoroughly recommend partaking. Thank you Karin and Simon for being wonderful hosts and making our stay special" Jackie and Barrie, Yorkshire, UK. June 2013
"We thoroughly enjoyed the dinner at Manoir de Gourin, delicious food, great wine and pleasant company. We would like to recommend this beautiful relaxing place to all" Pauline and John, Melbourne, Australia. May 2013
"Had a lovely time on the wine tour. Thank you very much". Ken and Sam, Colorado, USA. May 2013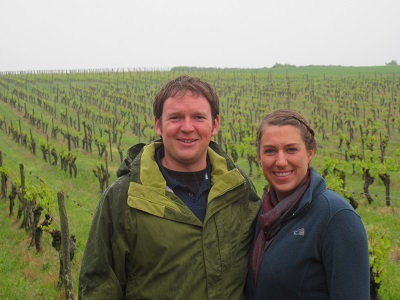 "Had a truely fantastic short stay. Recommend Simon's wine tour – we bought 6 cases!". Andy and Van, UK. May 2013
Loire Wine Tour reviews 2012
"Lovely relaxing week in a very comfortable apartment. The visit with SImon to Pierre's vineyard was excellent – really interesting to see a local vineyard and hear Pierre speak about how he's developing his passion for making good wine". Barrie and Mary, Plymouth, UK. September 2012
"We very much enjoyed our wine tour with Simon (well worth doing) and Karin's lovely dinner night too. Drink local wine, eat local food, and you will be very happy". Chris and Julie, Swindon, UK, August 2012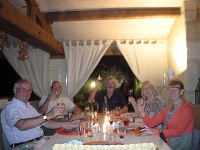 "Had a fantastic time in our little cottage. Karin and Simon are wonderful hosts and if you want something they will try and get it for you. Recommendations: Have the dinner that Karin cooks. 4 courses, wine tasting and aperitif. Its like being in a mIchelin star restaurant." Ben and Cheryl, UK, July/August 2012
"Nice wine from the chateau at Brissac of course not quite as nice as the wine we tasted from Domaine de L'Enchantoir, in our half day wine tour. We thoroughly recommend this. We learnt so much (great idea the notebook) and it was fascinating to get a glimpse of what goes into a bottle of Pierre's very good wine. Thanks again to Simon and Pierre for an illuminating few hours". Marianna and Peter, Buckinghamshire, UK. August 2012
"One of the highlights of our week was dinner and wine tasting in the beautiful manoir with Karin and Simon – a real treat". Jane and Chris, Essex UK. August 2012
"Sampling the local wines Simon has to offer was great fun. Hope he doesn't count the empty bottles or we may have a bad reputation!" Nuala and Roderick, Tipperary, Ireland, July 2012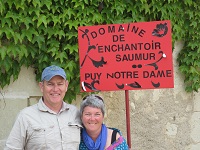 "What a great start to our French adventure! The use of your bikes to cycle the quiet back roads in such a lovely rural setting was a delight. The half day wine tour, educational and such a pleasure to meet the inspirational Pierre – the winemaker. We enjoyed every drop! But most importantly it was the little things we will remember: Karin helping us out on Bastille Day with a survival pack so we didn't starve, Simon's brave attempt at a BBQ for Aussies, a lovely meal on the patio sharing stories. We hope one day to return to your lovely slice of heaven. You are wonderful hosts and thank you so much for allowing us to share Manoir de Gourin. It was a special treat." Kim and Kim, Albany, Western Australia, June 2012
"Wonderful cottage, wonderful food, lovely wine tour…….best holiday I can remember". Hazel xx Tunbridge Wells, UK, June 2012
"Thank you for a most wonderful stay and for expanding our (Gregs) wine knowledge. The countryside is beautiful, the wines fantastic and your hospitality outstanding. Hope to experience it all again in the future". Marion and Greg, UK June 2012
"Oh where to start! – Lovely designed 'Anjou cottage'. Comfy Bed. All so well equipped. We so enjoyed the wine tasting dinner with you and other guests including Pierre and Brigitte (our local award winning winemakers). Karin your food was delicious!" Melinda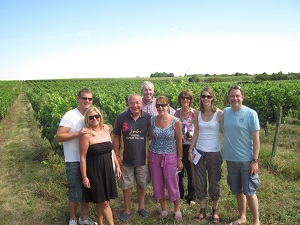 and Martin, UK, June 2012
" A lovely relaxing week. Very informative wine tour. 3 grapes varieties to remember. Melon de Bourgogne, Chenin Blanc, Cabernet Franc. Remember these as you may get tested when you least expect it! Many thanks. Chris and Sarah, Lincolnshire, UK, July 2012
"Really enjoyed the half day wine tour and Karin's and Simon's cooking…" Hannah and Matt, Bristol, UK August 2012
Loire Wine Tour Reviews 2011
"Thank you for a wonderful time. We thought it would be a good week in france but it was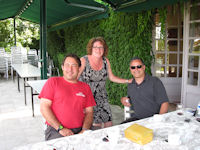 better than we dreamed. Made perfect by our hosts, Simon and Karin, the beautiful setting and surrounding area. The icing on the cake for us were the wine tasting dinner, and wine tour with Simon, where we able to taste the real Loire. Karin's wonderful cooking and Simon's knowledge of the local wines of this region, combined with their great hospitality has made our week truly one of the best." Geraint and Kathy, Caerphilly, UK – 2011
"Thank you for a wonderful 3 day wine tour. Our visit to the Loire was truly the highlight of our vacation." Jim and Sally, Omaha, USA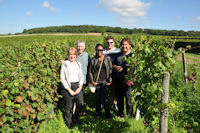 "An amazing week in the magical setting of the Loire. Karin and Simon have been fabulous hosts – attentive and approachable, welcoming and all round wonderful. The supper and Simon's one day wine tour were the highlights of our stay! We've thoroughly enjoyed every aspect of our stay and would return in a heartbeat!" Keith and Jo Mallette, Montreal, Canada – 2011
"First time in Loire. Enjoyed the wine tour with Simon and Karin's fantastic cooking! (esp. raspberry and strawberry tart)! Loved the Garden Apartment and the pool. Couldn't ask for anything more… Thank you very much." Simon and Sonja – 2011
"We have had such a lovely holiday staying in Layon Cottage in the beautiful grounds of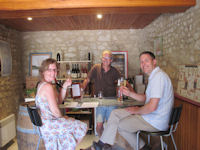 Manoir de Gourin. Thank you so much to Simon and Karin who were so friendly and made us feel very welcome. We especially enjoyed our one day wine tour in the sunshine with Simon. His tour around the loire countryside was fantastic and we learnt a lot about wine from him, Richard and Pierre – the lunch provided by Karin was amazing too. Thank you both so much." Ali & Kev Hosking, Reading, UK – 2011
"We have had a truly fantastic week at Manoir de Gourin. The garden apartment exceeded our expectations, the pool and the grounds lovely. Karin and simon were the perfect hosts. We enjoyed the supper night. The food was delicious & the wine was excellent. Thank you for making our first visit to France so memorable. We will recommend our friends to come over. Hope to come again." Ken & Barbara Cronin, Croydon, Victoria, Australia – 2011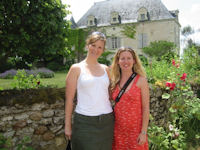 "Karin and Simon have created a delightful environment achieving almost instant relaxation. We have thoroughly enjoyed our time here, making the most of the pool and the excellent suppers at the manoir. The all day wine tour is not to be missed and we go home not just with plenty of lovely wine to remind us of our time here but also much wiser about the wine process and what we should avoid in terms of additives. We loved our breakfasts on the terrace. Thank you both, we shall certainly recommend your patch of paradise to our friends." Susanna & Peter Hanks, Reading, Berkshire, UK – 2011
"Karin and Simon, we are back and I wanted to thank the two of you for making our visit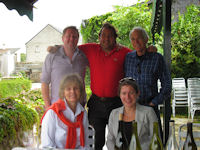 such a pleasure. The dinner and company were excellent and I really did get a great deal out of Simon's knowledge of wine and the wine business. The opportunity to meet with Pierre and Richard gave me a great deal of insight I do not think I could have gotten any other way. They are both interesting and charming men" Tom and Kathy Cardwell, Florida, USA
"Thanks so much for the warm welcome and fantastic holiday. Montlouis was fabulously boutiquey and the location superb. The one day wine tour with Simon was definitely the holiday highlight!" Piran and Jess, London – 2011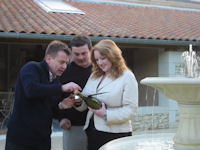 "Thank you Simon and Karin for a lovely week. The weather was good and the pool was wonderful. The all day wine tour is an absolute must! We visited 3 vineyards and all the wines were lovely and we bought 22 bottles! How we are going to get them all in the car (2 seater sports) I don't know! It's been the highlight of the week, thanks." Charlie and Victoria, Kent, UK – 2011
Loire Wine Tour reviews 2010
"Fantastic end to our honeymoon. lovely pretty area and great apartment. Karin and Simon are so helpful and a highlight for us was the fabulous evening meal in their home with great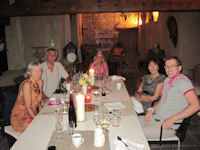 food and atmosphere. The wine tour was very informative and we learnt a lot about wine we didn't know. We came away with the most amazing sparkling red! Good restaurants, lots of places to see but if you want to relax the pool is outstanding and so very clean! Thanks for a fabulous stay. We will be back!" Gwen & Will Evans, Guildford, UK – 2010
"We have just spent a near perfect week in Layon which is delightful and well thought out, some delightful touches. There is so much to see and do that a week is not long enough to explore this delightful area. The swimming pool was blissful after a hot day's sight-seeing. The meals at the manoir were superb, as was the wine tour. Many thanks to Karin and Simon for being such wonderful and thoughtful hosts. We leave with many happy memories.." Lynda and Clive Gilchrist, Cambridge UK 2010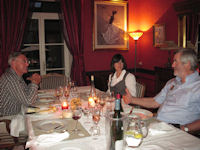 "Arrived not knowing – departed refreshed, more knowledgeable and will now look at the moon in a different light! Great hosts, lovely time and a real joy to meet the winemakers…Simon and Karin, thank you." Alan and Karen Gottschalk UK – 2010
"What a wonderful part of the world. Congratulations on your vision, passion and dedication enabling many travellers, including ourselves, to experience such an interesting area of France. We thoroughly enjoyed the wine tour with you Simon and will continue to enjoy Pierre's wine during the remainder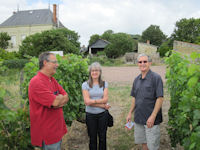 of our travels. Thank you for the wonderful memories we take with us of the Manoir de Gourin and the Loire Valley." Helen and Geoff Edmonds, Australia July 2010
"Truly wonderful experience. fabulous apartment & hosts. Loved the wine tours. Will be back!!" Graeme & Irene McFarlane, Glasgow, Scotland – 2010
"We can't imagine feeling more relaxed! The surrounding areas are beautiful and we've been relaxing in the garden whilst enjoying the excellent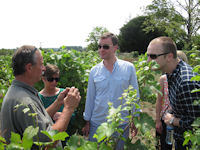 facilities in the apartment. We also heartily recommend Simon's wine tour – fantastic wine at amazing prices. Thank you Simon and Karin." Matt and Sally, Hertford, UK – 2010
"What can I say that hasn't already been said…. fantastic hosts in Karin and Simon. Good food and a whole new world of wine. Facilities are superb with the gite and pool – all you need. To top it all off the landscape is wonderful and a beautiful place to visit." Linda and Martin Turner, London – 2010
Loire Wine Tour reviews 2009
"We had to spend 12 hours plus 4 hours to come here from our home in Tokyo. It is worth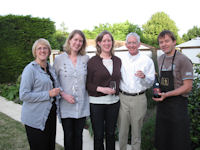 for it. Wine tour was very informative. Every time we have wine from Loire, we remember the days here. Thank you very much Simon and Karin. Arigatou!" Mieko and Takashi Goto, Tokyo, Japan – 2009
"We have had a lovely and relaxing time. The apartment was very cosy and exactly what we were looking for. The wine tour we took was great! Especially the last visit to Richard at Chaintres was superb. Thank you for a wonderful holiday." Will and Janneke, Barcelona, Spain – 2009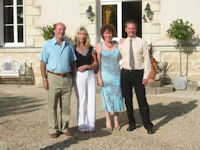 "We have had a marvellous time here. Layon is so comfortable with everything one needs to make it feel like a 'home form home'. The surrounding countryside is beautiful with fields of vines and sunflowers in profusion. Lots to see in the towns in the area with many chateaux being quite spectacular. Karin and Simon are excellent hosts and we had a wonderful meal in the Manoir cooked by Karin and a superb wine tasting hosted by Simon. Many thanks Karin and Simon." Ann and Cliff Connelly, Guernsey, Channel Islands – 2009
"Thank you so much for a wonderful week. having previously stayed in french gites we were completely unprepared for the superb accommodation .The location is an excellent base to tour the countryside – some of our happiest days were spent d
riving to a town and walking through the woods and parks, discovering the real beauty of rural france. The wine tour and gourmet dinner evening were very much the highlight of out trip and we will always think fondly of your warm hospitality." Gena and David, West Parley Dorset UK – 2009
"What a perfect location for the ultimate in relaxation. Thank you Simon and Karin for allowing us a 'great escape' from the stress of life in the UK. What simon doesn't know about wines of this region isn't worth knowing! We particularly enjoyed the dinner, complimented by the perfect local wines – a wonderful birthday surprise, thank you. we will certainly be back next year." Di and Ewan, Marlmesbury, Wiltshire, UK – 2009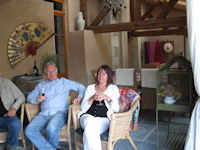 "Karin and Simon, we came for a relaxing week and achieved exactly that! Somewhere along the way we've learned a lot about wine and wine-making – a really good afternoon wine tour – thank you Simon (we'll never forget Chaintres!) and enjoyed a delightful wine tasting evening in your home – delicious dinner, wines, of course and such good company! We've explored a little and relaxed by the pool and in our very comfortable and so well appointed apartment. Do'nt really want to go home and are already planning our next trip. Thank you for all your help and advice." Helen and Norman, Herts, UK 2009