French wine tours, wine tasting in France, Loire wine tours, Paris wine tours, wine tours from Paris to Loire Valley, France
"The day with Simon was so much fun and we learnt so much"
Le Loire Tasting Room in the wine room at the exclusive Manoir de Gourin
Loire Wine Tours offers a selection of short break wine tours and wine tastings in the Loire valley vineyards in France for individuals, couples and for groups during our season from May to October.
We are now taking bookings for our 2018 wine tours, so do not delay if you are looking to book our summer programme. Our first 2018 guests in May Jessica and Eric from the USA enjoyed a full day in the two village appellations of Puy Notre Dame and Champigny.
Our wine tours run from May to October.
Check tariff for our prices.

Join Simon and Karin Grainger at their beautiful La Grande Maison amidst the Anjou & Saumur vineyards in the Loire Valley France near Saumur, near the historic town of Puy Notre Dame.
Loire Wine Tours invites you to discover, savour, reveal, explore, and uncork the grape with Simon on one of his wine tours. Be entertained and above all have fun. Delight in tasting some of the fine wines of the Loire valley France Loire valley wines.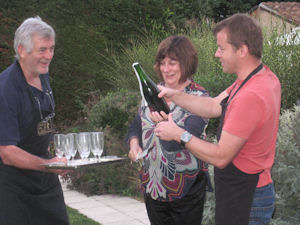 On our loire wine tours you will meet passionate vignerons, discover little gems in the vineyards and savour delicious French cuisine. Ah….the simple pleasures!
Arrive at Manoir de Gourin yourself or we pick up from Angers and Saumur.
Our 2017 wine tours were busier than ever so don't delay if you are interested in our tours in 2018. Make sure you don't miss out, contact us now to discuss your plans for a loire wine tour short break for 2018. We provide tours from 2 to 8 people. For larger parties please contact Simon and Karin at info@loirewinetours.com
OUR LOIRE VALLEY WINE TOURS: Short wine tasting breaks – fully escorted
Half day

'Discover the grape'

wine tours in the Loire Valley France
One day

'Savour the grape'

wine tours in the Loire Valley France
Two day

'Reveal the grape'

wine tour in the Loire Valley France
Three day

'Explore the grape'

wine tour in the Loire Valley France

Our French Wine tours in the Loire Valley France can be tailor-made to your requirements

Gourmet Wine Tasting Dinners showcasing Loire Valley wines
The prices for our Wine tours can be found on our Tariff page.
In addition to running the wine tours Simon is a wine merchant specialising in importing loire valley wines into the UK.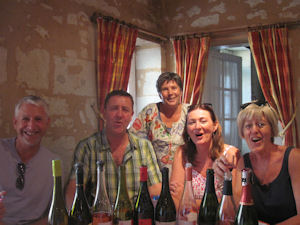 If you are interested in buying our loire wines in the UK please visit our website gfwine.co.uk
Find out more about Le Loire Tasting Room by contacting us at loirewinetours.com
If you are interested in our self catering accommodation please visit our website manoirdegourin.co.uk. and see La Grande Maison Manoir de Gourin our beautiful destination in the heart of wine country.
loire valley wine tours, french wine tours, wine tours loire, wine tour holidays france, wine tasting, tours, wine tours and wine tasting france, wine tour loire, wine tours near Angers and Saumur.
Alcohol abuse is dangerous for your health. Consume in moderation
L'abus d'alcool est dangereux pour la sante. A consommer avec moderation